Description
COURSE DURATION
24 Hours ~ 4 Days equivalent. Delivered by blended e-learning. Actual course attendance date is one day.
LEARNING STYLE
Upon booking the course the student will be enrolled on TRAUMA Trainings E-Learning program. This system has been used with great effectiveness our DMT & Supervisors courses. The student will work through the modules at their own speed before the course. The lessons comprise of pre-recorded presentations with quizzes. Its an excellent way to absorb theoretical information. The E-Learning has links to multiple pdf course manuals, books and relevant legislation documents.
The attendance course is one day (from 09:00-17:00). This will be highly practical with multiple scenarios. At the end of the day the student will sit a Multiple Choice Question exam.
ASSESSMENT AND CERTIFICATION
The student will be assessed practically throughout the day by experienced instructors. The course is DMAC 11 Compliant. At the end of the day the student will sit a Multiple Choice Question exam.
Upon successful completion, delegates will be awarded:
Diving First Aid Certificate (Compliant with HSE First Aid Regulations 1981 / First Aid At Work).
Oxygen Providers Certificate. (Compliant with DMAC 11).
Automated External Defibrillator Provider Certificate (Compliant with UK & European Resuscitation Council Guidelines 2021).
ENTRY REQUIREMENTS
This course is designed to deliver awareness and training to anyone who wishes to take the course. On this basis, there are no formal entry requirements. TRAUMA Trainings courses are taught in English however our instructors are multi-lingual.
COURSE CONTENTS
Casualty Assessment & Management
Principles of First Aid
ATLS assessment: SAFE Approach, Primary & Secondary Survey
Manual Handling of Casualties
Major Incident Management
Casualty Stabilisation & Casualty Transfer
Incident Recording & Reporting. RIDDOR
First Aid
Basic Life Support (ERC & UKRC 2021 guidelines)
Automated External Defibrillation (AED) (ERC & UKRC 2021 guidelines)
Adult Choking, Drowning, Asthma, Hyperventilation, Open Pneumothorax,
Hemorrhage control, Shock, Acute Coronary Syndrome, Fainting (Syncope), Burns, Electrical & Chemical injuries, Climatic Injuries,
Seizures, Diabetic Emergencies, Head Injuries, Stroke,
Spinal Injuries, Sprains, Strains, dislocations & fractures, Pelvic Fractures Management.
Poisoning, Eye Injuries, Abdominal Trauma, Nose bleeds.
Infection Control, Wound Management, COVID 19 Management, PPE Donning & Doffing, PCR Swabbing
Oxygen / Breathing Gas Provision
DMAC 11 Compliant
Airway Support, Suctioning, Oxygenetion & Ventilation.
Entonox Administration
Gas Handling (HSE / IMCA Guidelines)
Diving First Aid
DCI (DCS & Arterial Gas Embolisms), Recompression Therapy
Role of a Hyperbaric Tender.
Barotraumas, Gas Toxicity, Marine Envenemations & Marine Attack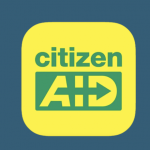 CitizenAID App
The CitizenAID app has been extensively updated. If you have not got this app please download.
It is 100% FREE (no adverts or 'upgrades').
It was developed by Brig Tim Hodgett (RAMC).